Who & What is Bar the Stool?
Hi I'm Craig Truscott, the idea's man behind the team behind the products at Bar the Stool. After 25 years in creative industries, I know a thing or two about what makes great design...and bad.
I started this company because I saw too many rooms where the seating was an afterthought, and the result looked like the proverbial "dog's breakfast!'
We all know the saying…"All over bar the shouting."
Well, there are too many kitchens, bars and spaces out there considered finished, without the final touches …And it got me thinking...They were "All over Bar the Stool."
So I went on a mission…..
To source a range of unique bar stools, chairs & furniture that would help their owners create a hub for family, friends, guests and clientele.
A place where people could gather, connect, relax and celebrate.
Where the furniture itself would help create the atmosphere in the space.
Where perhaps the stools and chairs might create a talking point in themselves.

 

So I got the team cracking... We searched far and wide to find designers and manufacturers producing extraordinary pieces that we could bring to discerning buyers across Australia who appreciate beautiful furniture that makes a statement.
"The type of furniture that people would fight over when you die!"
We looked at a lot, but only a few measured up to our exacting requirements for quality and uniqueness. And as we uncovered the stories behind those products we felt our customers would love, we knew we were creating something special.
Something different to what was already available on the market like our Ashanti Design range.
Since our launch in 2016, we've expanded our catalogue as we unearthed even more fabulous collections. And we have big plans to add even more.
But one thing remains constant and always will…..
Our commitment to bringing you products that are different..but functional. That won't fall apart at the drop of a hat and will help make your space stand apart from the ordinary… And with customer service that matches the excellence of the goods themselves.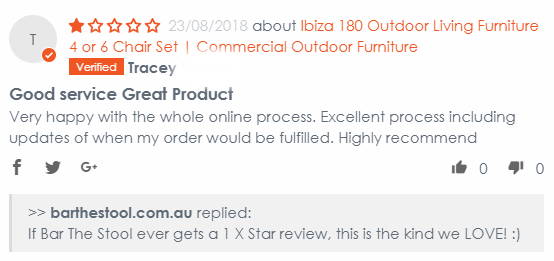 You see, we're big believers in Karma.
What we put in we get out. And it's worked...
99% of our reviews are 5-star, BUT even our one-and-only 1-star feedback is pretty damn cool don't you think?
---
So what are you waiting for? Get on over and check out the latest catalogue.
If you've got any questions, then we have a ton of ways you can get in touch.
Jump on the phone and give us a call on 1300 072 409
Email: support@barthestool.com.au
Hit us up in the live chat.
Or drop me a note in the Contact Form.
Thanks for giving me the chance to tell our story. I sincerely hope you play a part in it too.